Dougs Waterer came about after years of caring for livestock and having to deal with waterers that didn't live up to their expectations. This system delivers fresh clean water and is safe, durable and affordable. The Dougs Waterer is energy free using the ground temperature to keep the supply lines and water basin frost free.

The Dougs Waterer is made of durable molded plastic and has no float arm or moving parts. It is easy to install, simple to maintain and easy to clean when needed. So durable it may even outlast your barn...
The Dougs Waterer may also be used to water other types of livestock (cattle, sheep, goats, dogs It could even be used for zoo animals!

The Dougs Waterer is free standing unit and can be installed anywhere at least two and one half feet below the ground surface to get below the frost line in your area.


The Dougs Waterer is available in all the basic colors or can be order custom colored. The 4 ft waterer is $275 plus shipping and handling.
Click here for installations instructions.

Used by:
Cinder Lakes Ranch
Teddy Johnson Cutting Horses
Armentas Reining Horses
Cedar Ridge Ranch
McQuay Stables
Darling 888 Ranch
Hilldale Farm
Crossfire Ranch
Western Kentucky University
Staton Quarter Horses
and many other singles used for horses, dogs, wildlife and other livestock.
Read what our Customers have to say about their Dougs Waterer.

"I wish Dougs Waterer would have been available when we were building our facilities. Any new construction we do includes Dougs Waterer."
Kathy Hinton- Cedar Ridge Stallion Station - TX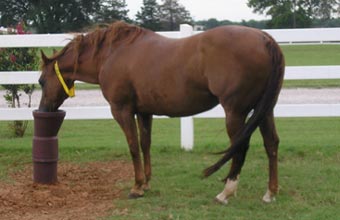 "We used Dougs Waterer in our Mare barn and love the ease of cleaning them and how safe they are."
Tammye Hutton - Hilldale Farms - KY

"I would highly recommend these waterers. We installed them in our barn and haven't had any trouble with them. They are easy to maintain and were simple to install."
Lorenzo Armenta - Armenta Quarter Horses - TX

"What a great product, easy installation. We use them in the stalls and outside. They are very durable and can hold up to the abuse."
Butch Reddish - Reddish Land & Cattle Company - TX